RoboGames 2011 Speaker Symposium
The motivation behind the RoboGames symposium and speaker series is to connect the RoboGames attendees, who love building robots, with robotics professionals who make bot-development and innovation a central part of their career. There will be a video series to open the event, four energizing talks each day that span specializations, and selected academic student posters on display during the breaks.
Did we mention that a small humanoid robot will help MC? Don't forget to stop by at 2pm-5pm Saturday and Sunday afternoon!
---
Heather Knight of Marilyn Monrobot / Carnegie Mellon University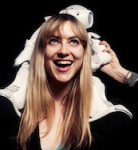 Academic Chair

Heather Knight is currently conducting her doctoral research at Carnegie Mellon's Robotics Institute and running Marilyn Monrobot in NYC, which creates socially intelligent robot performances and sensor-based electronic art. Her work also includes: robotics and instrumentation at NASA's Jet Propulsion Laboratory, interactive installations with Syyn Labs, field applications and sensor design at Aldebaran Robotics, and she is an alumnus from the Personal Robots Group at the MIT Media Lab.

---
Marek Michalowski of Beatbots


Video Curator

Marek Michalowski is a co-founder of BeatBots, whose popular robot Keepon was built to engage in nonverbal interaction with children, particularly those with autism. Michalowski holds a Ph.D. in Robotics from Carnegie Mellon University and B.A. and M.S. degrees in Computer Science and Psychology from Yale University.


Saturday: 2-5pm
---
Evan Ackerman of IEEE Spectrum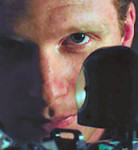 "How not to make a friendly robot: lessons learned from creepy humanoids"

Evan founded the robotics blog BotJunkie in 2007, and now writes about robots for IEEE Spectrum. He also writes about future technology for the Syfy Channel, and in his spare time, he likes to host knife-fights between robot vacuums.

---
Carol Reiley of John Hopkins University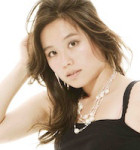 "Robot Doctors, Instrumentation & the Future of Surgery"

Carol Reiley is a surgical roboticist completing her doctorate at JHU researching sight (computer vision), touch (haptics), and intelligent movement for teleoperated systems. She enjoys quirky people, medical fun facts, diy projects, and eating donuts.

---
Patrick Flanagan of Jazari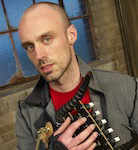 "Ghost Notes in the Machine: Robot Musicality and Cyborg Performance"

Patrick Flanagan serves as the token human in the cyborg percussion ensemble Jazari, which fuses African rhythms, algorithmic composition, and electro-mechanics into beat-driven steamfunk. Jazari has been lauded on tech blogs as "fully rockin'" (Boing Boing) and "utterly brilliant" (Create Digital Music) and was featured on NPR's All Things Considered.

---
James Kuffner of Carnegie Mellon University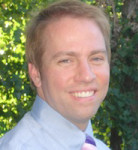 "Cloud-enabled Robots"

James Kuffner is an Adjunct Associate Professor at the Robotics Institute, Carnegie Mellon University and a Research Software Engineer at Google, Inc. He received a Ph.D. from the Stanford University Dept. of Computer Science Robotics Laboratory in 1999, has published over 100 technical papers and received the Okawa Foundation Award for Young Researchers in 2007.


Sunday: 2-5pm
---
Victor Ng-Thow-Hing of Honda Research Institute USA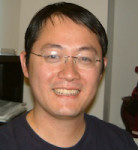 "The challenges (personal and technical) of humanoid robotics research"

Victor Ng-Thow-Hing is a principal scientist at the Honda Research Institute USA in Mountain View, CA. He has worked in the areas of human-robot interaction, robot intelligent systems and digital human modeling and tries to have fun doing it.

---
Ryan Calo of Stanford Law School


"A Tale of Two Robots: On the Promise and Perils of Open Robotics."

Ryan Calo is Project Director at the Stanford Law School's Center for Internet and Society (CIS), directs the CIS Consumer Privacy Project, co-directs (with Sven Beiker) the Legal Aspects of Autonomous Driving Project at CIS and the Center for Automotive Research at Stanford, co-chairs (with Matt Henshon) the Committee on Robotics and Artificial Intelligence of the American Bar Association, and is on the planning committee for National Robotics Week.

---
Lenore Edman of Evil Mad Scientist Laboratories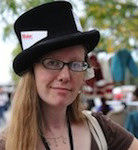 "From Hobby to Company"

Lenore Edman runs Evil Mad Science LLC, a small hobby electronics business, along with Windell H. Oskay. The two of them also blog about projects involving art, electronics, food, design, and whatever else piques their interest at Evil Mad Scientist Laboratories.

---
Eric Singer of Lemurbots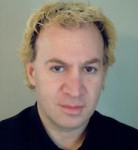 "Robots, Slime, Propane and Other Ways to Make Strange Musical Instruments"

Eric Singer is a musician, artist, engineer and programmer and the Founder of LEMUR: League of Electronic Musical Urban Robots. He holds a BS in Computer Engineering from Carnegie Mellon; a Diploma in Music Synthesis, Magna Cum Laude, from Berklee College of Music; and an MS in Computer Science from New York University.
Printable version of this Page. | Subscribe to our mailing list!
© 2004-2015, Robotics Society of America, Inc (RSA.) "RoboGames" and the RoboGames wordmark is ™ of the RSA. "ComBots" and "ComBot" are ™ of ComBots, LLC.

RoboGames is Presented by: