Official RoboGames Hotels and Locales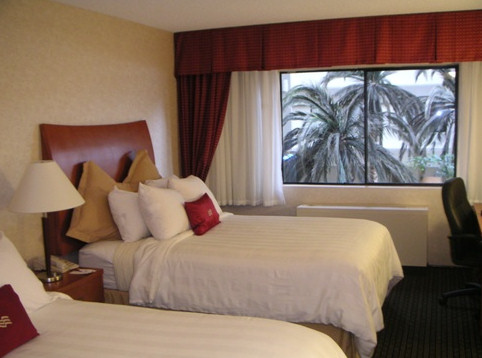 This year, to help all contestants, RoboGames has an official hotel - the Marriott San Mateo - very close to the venue. There are lots of benefits:
Discounted room rate is only $110.00/night.
Free pick-up at the airport and return to the airport after the event (call 650-653-6000 when you arrive to get a lift from the airport)
Multi-room suites are available - these suites are big enough to sleep several people.
Free breakfast buffet, inclusive of tax and tip, for all RoboGames people staying at the hotel.
In-hotel restaurants, cocktail lounge, and full sports bar (which will feature RG highlights each night!)
Get the inside scoop on the event at the sports bar where all the RoboGames staff go to relax each night.
You can book online at San Mateo Marriott or call 650-653-6000, and make sure to mention the group name "robroba."

Several other hotels are available in the area for you to stay at if you would like more choices, but do not include the above mentioned shuttles, restuarants, etc. Mention "RoboGames" in all cases to get the special rate:
Hotel
Rates
URL
Contact
Distance
Best Western Los Prados Inn
2940 S. Norfolk Street
San Mateo, CA 94403
$85/night
bestwestern.com
650-341-3300 ext 704
1.68 miles
Howard Johnson
2110 S. El Camino Real
San Mateo, CA 94403
$65/night
staysanmateo.com
650.341-9231
1 mile
Stone Villa Inn
2175 South El Camino Real
San Mateo, CA 94403
$79/night
stonevillainn.com
650-458-6556
0.9 miles
Hillsdale Inn
477 East Hillsdale Boulevard
San Mateo, CA 94403
$49/night
$280/weekly
hillsdaleinn.com
650-341-3461
1 mile
San Mateo Event Center
RV Parking w/hookups
2495 Delaware Ave
San Mateo, CA 94403
$35/night
incl. 110 VAC
& Sewer Hookup
sanmateoexpo.org
650-574-3247
100 feet